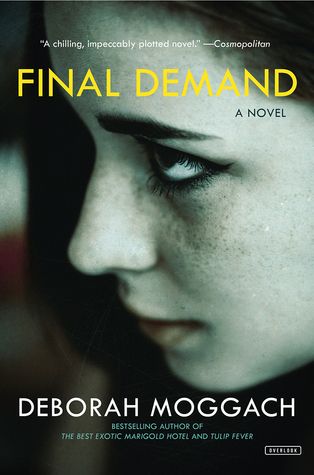 Title:

Final Demand
Author:

Deborah Moggach
Publisher:

The Overlook Press
Publication Date:

June 6, 2017

(originally published Jan 1, 2005)
About the book:
Praised as "extraordinarily skillful" by award-winning novelist Anita Brookner, Deborah Moggach delivers in Final Demand an extremely powerful novel about the consequences of greed and deceit. Natalie is a girl who should be going somewhere. Although beautiful, bright, and ambitious, she's stuck in a dead-end job in the accounts department of a telecommunications company, living her life through wild weekends and yearning for something more. While processing the final notice payments on customer's accounts, Natalie devises a simple little scam that could change her life in a major way. And since it's only a minor crime -- nobody's going to get hurt -- she doesn't hesitate to follow through her scheme.
But when Natalie's selfish actions have tragic consequences, she learns there's no such thing as a victimless crime. Emotionally taut and beautifully written, Final Demand is a cautionary tale about misguided aspirations, the battle between love and envy, and our own frailty in the face of temptation.
My thoughts: When I was offered this book to read for review from the publisher, I didn't hesitate. I had just finished Tulip Fever, which I had devoured. Tulip Fever was not really my style of book, but I had read it because of the upcoming movie. I fell in love with the author's style of writing, so knew that I wanted to read Final Demand.
I was reading some other reviews on this book and saw it called Chick Lit and "a light read". I disagree. This book is not a light read. To me, it was more of a psychological drama. There is not a lot of physical action in the book. It is told from a few different points of view, with Natalie, the protaganist, being the main one. She has heard of a scheme to pilfer customer's checks and thinks she has the perfect cover. She will just divert some of the money from the larger companies bills to cover the individual customer's bills - so that the customer's bills appear to be paid, and she then deposits their checks into her own account. The extent that she goes to get the scheme going is outrageous though, and you will have to read the book to find out what she does.
On one afternoon though, the computers go down before she has a chance to transfer money to cover the customer's bills. She doesn't think anything of it and figures she will do it the next day - except that she forgets. This is the small ripple that will affect not only her life, but the customer's lives as well.
I love the way that the author gets inside the heads of the characters. In this way, you see all of their flaws - even the ones that they don't think or know that they have. I also read my own meaning into the title - Final Demand. I always like to try to figure out why the author used that title. In this case, the obvious one is that Natalie was stealing the payments and this caused some customers to receive their final notice - or final demand for payment. I also thought it could reference what some of the characters went through, and what the final demand in their lives were because of their actions, or inactions.
Even though I generally like a book with a lot of action, I found this to be a very good read. The characters were well developed, and I thought they were believable. Someone in a review noted that this wasn't a believable crime - and I have to disagree. This is very much a believable scenario, but one you just don't hear as much about because of the violent crimes that over shadow the white collar ones.
If you haven't read anything by Deborah Moggach - this is a good place to start!
~I received a complimentary copy of this book from Lauren at The Overlook Press in exchange for my unbiased review.~